Aligned One Wellness is not a spa nor is it a clinic. It's the best of both.
A healing space which focuses on assisting our clients in improving their wellbeing holistically through Registered Massage Therapy, other alternative medicine modalities and online resources while reinforcing the importance of daily self care.
Book
conveniently online.
Self care is a lifestyle.
Purchase gift cards, self care products and tools to help you function at your best.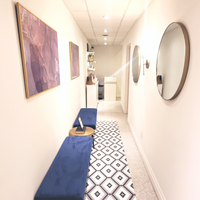 Wellness In Toronto
Our products and services specifically focus on the root cause of what we feel physically. Tapping into mentally, emotionally and spiritually healing a person. This healing then travels through the body where stress, tension and more can be released.
Registered Massage Therapy In Toronto
We offer Registered Massage Therapy treatments that incorporate other alternative medicine modalities such as Thai massage, cupping, fascial stretching as well as online resources to aid you in your self care journey.
Our Registered Massage Therapists are professional, knowlegdeable, intuitive and bring a calm energy to your overall experience.
What Clients Are Saying
" I'm a big believer in supporting good businesses, and if you're in the market for a talented RMT, Sarah is one of the best. Go see Sarah, you will feel a million times better!"

Sara GB
" I am so impressed by my massages with Sarah as well as my massage and cupping treatment with Susan. Both are professional as well as down to earth and easy to talk to. I never feel rushed and each treatment is 100% amazing. My lower back issues have improved as well as upper body. I've had massages at other places but never have they had as much impact on my recovery as at Aligned One Wellness. This has become a regular "self care" for me. I highly recommend!!!!! "

Melissa F
" I've had a lot of massages over the years and this was, by far, one of the best. It was clear after just one session that Susan is not only deeply knowledgeable of the body and of her craft, but also extremely caring and intuitive. As a result, she was able to tailor the massage in a way that felt just right and I left the session feeling so much better and lighter. I also appreciated how closely she listened to my concerns at the beginning of the session and thoughtfully adapted the massage. She even took the time before our session to research the rare health condition that I listed in my intake form just to make sure that her approach would be appropriate. I really appreciated that and was able to relax knowing that I was in good hands. And the 15-minute Indian Head Massage that she added absolutely rocked. Definitely coming back for that! "

Kelly C
"OMG!!!!!! I did not know what to expect! She is amazing and her skill shines through. She is professional and I highly recommend her for your next massage."

Sheri-Anne W
Join the Aligned Community
As a Community Member, you'll receive priority access to bookings, secret menu offers, and other fun perks to help take care of YOU. Join us, we can't wait to see you in there!
Location
Where To Find Us?
Address
698 Danforth Avenue Suite 102, Toronto Ontario M4J 1L1

Phone & E-mail
+ (647) 448-7663
info@alignedonewellness.ca
Hours
Tues - Fri 10am - 8pm
Sat & Sun 10am - 6pm